Yanpai can customize filter cloths for the coal washing industry. Our filter cloths are widely used in all types of physical separation and filtration processes in the coal washing industry. They are used for all types of machines of coal washing plants or others, such as belt filters, vertical leaf filters, horizontal leaf filters, rotary disc machines and flat disc machines, etc.
Our main types of filter cloths:

The filter cloth is the soul of the filter press and directly affects its filtering performance. In addition, both the filter cloth and the processing are indispensable. Our filter press cloths are medium-thickness fabric, including polyester, polypropylene, mono-filament filter cloth and imported double-layer filter cloth, etc. We have an independent and high-quality processing workshop. According to the different fineness of material, we produce 400 mesh, 800 mesh, 2000 mesh and other mono-filament cloths to meet the various filtration precision of the coal washing industry.
Filter cloth processing: According to customers' desire for both the size and specific requirement of filter cloth, such as brushed filter cloth, embedded filter cloth, hanging filter cloth, plate and frame filter cloth, filter cloth wrapping, filter cloth perforation, etc., we can make processing based on customers' sample and design.
Application of filter cloth: These cloths are applicable to diverse types of filter presses such as plate and frame, box type, diaphragm and so on, which are widely used in chemical, metallurgical, petrochemical, pharmaceutical, food, mineral, coal, ceramic and environmental protection.
Effect: 1, Improve productivity and reduce cycle time; 2, Significantly improve removal effect; 3, Effectively reduce cleaning frequency; 4, Clear filtrate; 5, Dry filter cake and excellent manual efficiency.
A.Stripping performance of the filter cake: It directly affects the efficiency of the filter press. If the surface of the filter residue is smooth and non-adhesive, the filtrate will quickly percolate through the filter cloth with faster filtering and higher efficiency. On the contrary, if the filter residue is sticky, it takes more time to filter with lower efficiency. The stronger the stickiness, the lower the efficiency. In this case, we must choose mono-filament filter cloth or satin-woven filter cloth.
B.According to the acidity and alkalinity of the filtrate: Choose the appropriate filter cloth for different degrees of acidity and alkalinity. The polyester filter cloth is more acid-resistant and vinyl filter cloth is alkaline-resistant. Polypropylene filter cloth features both acid and alkali resistance.
C.Abrasion resistance of the filter resources: The first factor to consider is whether the shape and particle of filter residue are uniform and hard or not, and the second one is abrasion resistance. If not, its quality should be taken into consideration. The abrasion resistance of polyester filter cloth and nylon filter cloth are better.
Yanpai filter cloths for the coal washing industry:
Yanpai's filter cloths for the coal washing industry are used in filter presses in the coal washing plant. Working conditions (for reference): Alkali concentration: 0-320g/L Slurry flow: 0-180m³/h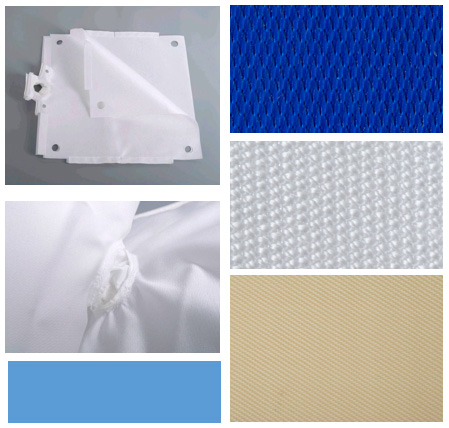 Material: polyamide PA
Type:PA1422/PA1426(monofilament filter cloth)
Air permeability: 1000L/㎡/s
Product features:
1. It has excellent acid-base resistance property and high tensile strength.
2. It is smooth and flat with better air permeability after heating.
3. It is tough and durable, and the filter cake can be easily stripped and recycled.
4. The cloth is sewn with acid-base resistant high tenacity yarn, which is durable.